Polished Properties - US is a Jacksonville, Florida based model home cleaning and maintenance service provider, in business since 2015. We believe our polish will give your future homeowners a great first impression! From the spot-free carpet to the dust free light fixtures, to the spotless sliders, they will be thrilled with the bling our cleans provide.
Our Philosophy
Our polish allows your team to focus on sales
We'll provide the bling for your beautiful model.
Our goal is to be the best, proactive cleaning & maintenance team you have ever chosen
We are passionate about giving back to the community

Benefits Of Working With Us
Monthly on-site property assessment and agent meetings are scheduled to ensure your sales team's satisfaction
We create a consistent, positive, reliable service
Our services are guaranteed. We will return within 24 hours to correct any issues
Clean confirmation cards are provided with every clean.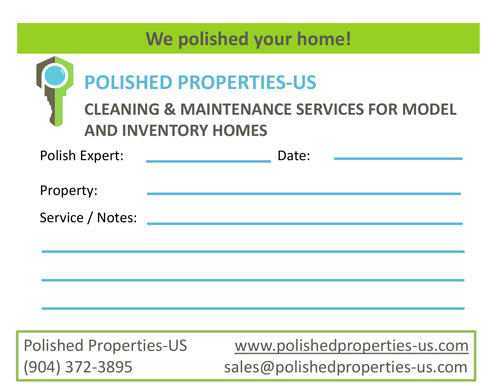 Clean Confirmation Cards
These cards provide you with the specifics of the services that were completed during the visit.
We also offer insight as to the status of your property. Many times, during the cleaning of a spec or model home, we find little issues that can turn into big problems.
Our cards can make you aware of these issues and give you time to correct them before they become problems.